This page is loaded with pics, please be patient!!
Backyard Racing Team
2001 Racing Photos
Dan Franks here (webmaster/racer guy). We finally added a few pics from 2001 taken by track photographers. We didn't take as many pics this year as we should have. A lot of this stuff is on the Backyard Racing Page, except the trophy pic (I'm rather fond of that one). Anyway... we'll see what we can do with it!

Here is my coupe winning our heat race at Avoca, Iowa on July 4th, 2001. I was lucky enough to draw pole. Larry Aldrich was all over my back bumper the whole race.
John Ferguson holding the checkered flag over me during driver introductions at intermission. Behind us is John's model A that he rolled the night before at Alta. Hard to imagine rolling a racecar in an exhibition!! Don't believe everything you hear about GOTRA. See the racing for yourself!!!

This is the Devil Woman running third in the feature, just before leaving the track with an overheated engine. Dennis Hundley won with his flathead and Rich Anderson was second.
2000 Racing Photos
Al Franks, Dan Franks, Jeremy Franks
By the way, did I mention.... WE NEED SPONSORS!! IF you would like to sponsor a car that thousands of people see in a three state area (see the schedule page), then this is it! These cars are very popular and kids love them. Backyard Racing takes part in car shows as well as an ever growing race schedule. Your sponsorship will help us attend more races. Backyard Racing would love to do an appearance at your event or place of business!! Contact Dan Franks via e-mail at race_66@yahoo.com. Let's talk about what Backyard Racing can do for you!!
Racing action at US30 in Columbus, Ne. Bob French is in the #5 car, Larry Aldrich in the #33, and Jeremy Franks in the #66.

Racing action at US30 in Columbus, Ne. Steve Delevan is in the #12, Dan Franks in the #00, and Howard Sheets is in the #17.

Racing action at US30 in Columbus, Ne. Me again...

Racing action at US30 in Columbus, Jeremy again...
1999 Racing Photos
Car Number 00, 1946 Ford Coupe, is powered by a Chevy 327 with mechanical cam, stock pistons and rods etc.. Truly a junkyard motor with a racing cam! Her first night was at US 30 Speedway in Columbus, Ne. in late 1999. We finally got her on the track and she was fast. She was very fast, she went right to the lead ....for a few laps. She had a fuel supply problem. The engine kept dying and restarting, dying and restarting....you get the picture. I had to leave the race.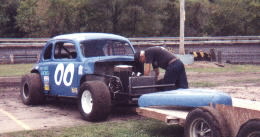 We tried a few things and got her to Webster City Iowa for the 1999 Vintage Nationals there. She ran real hard. Although the power steering died, I came in 8th out of 24 cars. I have a photos page with Webster City pics. Look for your favorite car there. I may have of photo of it. You'll find some more pics of the Devil Woman there as well (imagine that!).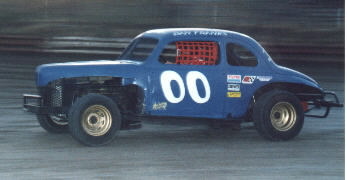 We raced at the US 30 Speedway in the "Abe" Lincoln Memorial 9-25-99. We won our heat and the trophy dash before missing the "A" feature with a flat tire. It was still a good night. I had never won a trophy dash before. What a thrill!! The folks at U.S. 30 are very good to GOTRA. They scheduled us 4 or 5 times per year, it is the closest thing to a home track that we have (cause we love them too!).

1998 Racing Photos
Here's the ol' sedan in action in'98.
GOTRA- Good Ol' Time Racing is group of racers dedicated to preserving and racing vintage dirt track race cars. To reach GOTRA, e-mail us at race_66@yahoo.com
Click here to see a few pictures of the coupe.
"> Have you ever been at a swap meet and wondered which shocks you should buy? Or what part number is used for which corner of the car?
Click here for Coupe Setup info!!!.
Click here to see a few pictures from other clubs.
Click here to see our schedule.
Last Modified 3-17-02