OTHER VINTAGE RACE CARS
Photo Page
These cars belong to friends of GOTRA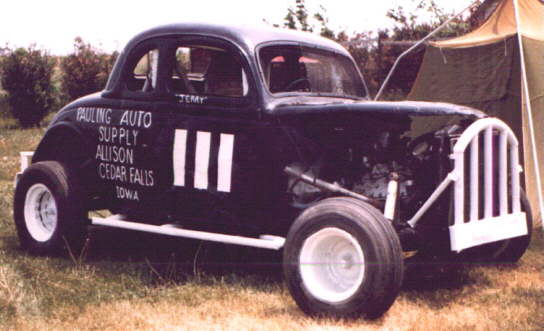 The #111 Ford coupe of Dennis Hundley, "Midwest Vintage Racing", this car has been raced by the same family for 30 years!!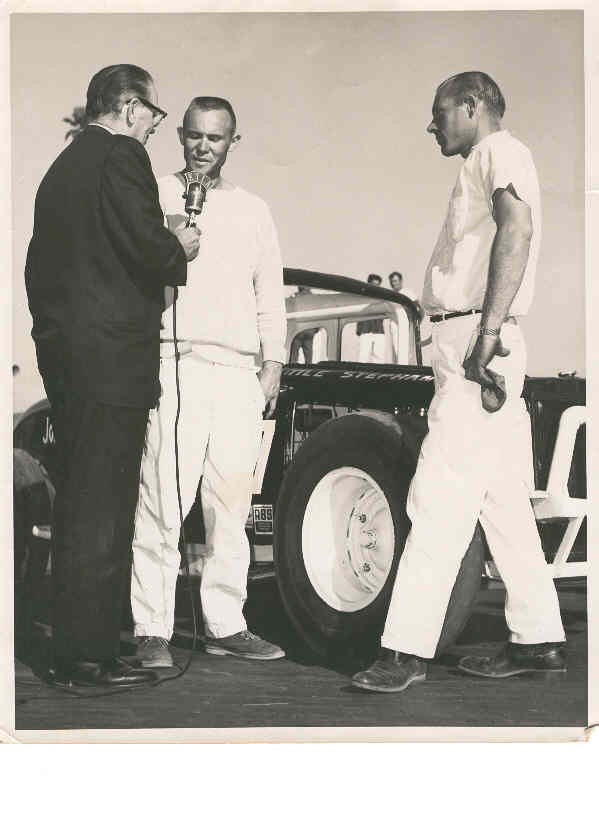 GREAT MEMORIES! (This is from Stephani Brechbuhler in her words.) MY DAD, JUNIOR BRECHBUHLER WAS KILLED IN A MOTOR CYCLE ACCIDENT ON APRIL 1 1989 IN BILLINGS, MISSOURI. DAD HAD MANY FRIENDS IN THE RACING WORLD. DAD WAS A MEMBER OF THE AMERICAN JALOPY AND THE CALIFORNIA JALOPY ASSOCIATIONS FROM 1053 TO 1964.RACING IN ORANGE COUNTY, CALIFORNIA.MANY RACING FRIENDS, MEL MCINTOSH, JIM ROESSLER,PARNELLI AND PAUL JONES,BUCKY STONER, LOU SYOLTZ AND MANY MORE.I WAS BORN IN 1958,DAD HUNG MY CAR SEAT ON THE SIDE OF HIS PICKUP TRUCK IN THE PITS.ALL I KNEW WAS RACING. I GREW UP IN THE GARAGE AND IN THE PITS WITH MY DAD.I USE TO CRUSH ROCKS IN HIS VISE.I LOVED THE SMELL WHEN HE WOULD CUT TREAD IN TIRES AND I USED THE RUBBER FOR SNAKES. DAD GAVE UP RACING WHEN I STARTED SCHOOL,ALL THE NOISE FROM WORKING ON THE CAR ALL NIGHT AFTER WORKING TWO JOBS ALL DAY AND SOME TIMES HALF THE NIGHT.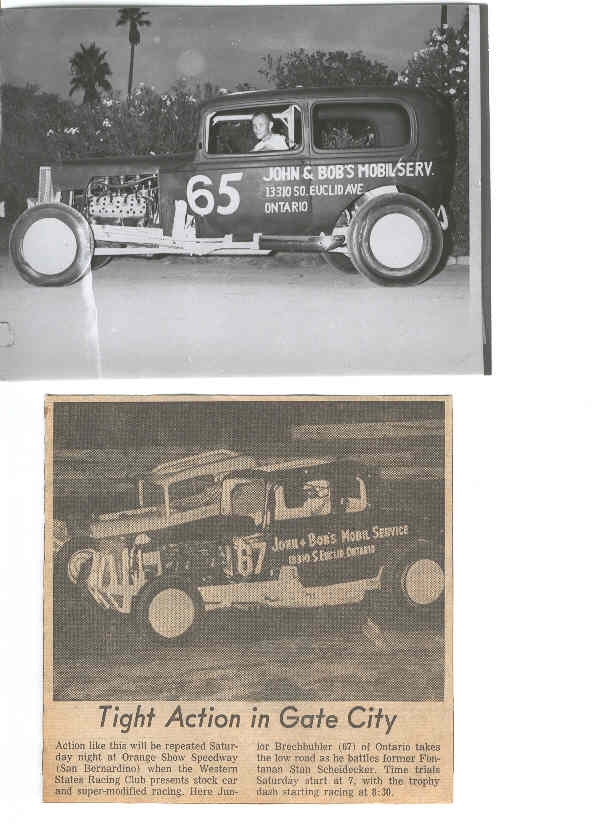 I WAS SO SURPRISED TO SEE VINTAGE RACING ON THE WEB, WE WHO DO REMEMBER HAVE GREAT STORIES TO SHARE.THE NAME ON DAD'S CAR WAS LITTLE STEPHANI, THAT'S ME, I LOOK FORWARD TO HEARING FROM ANY ONE WHO KNEW MY DAD. I MISS HIM DAILY. STEPHANI BRECHBUHLER DAVIS stephanidavis@home.com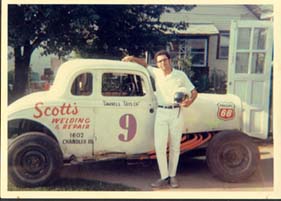 The #9 coupe was Darrell Taylor's first stock car, raced at Sunset Speedway during the last year of coupe racing there.The car's history as told by Darrell:The white '33 Ford coupe was built by Ed Janisch in maybe '65 and raced at both Playland (in Council Bluffs, Ia.) and Sunset. Ed built a replacement car in '67 (a '32 Chevy coupe), and I bought the '33 in '68. It wound up on the wrong side of turn one at Sunset the third night I ran the car. There was no '69 season for the coupes. The car was sold and wound up somewhere in western Nebraska.
This is Darrell's current racecar, #93. He hopes to have it fully restored and ready to race with us as a GOTRA member at the Sunset Speedway date on May 26th. Again, some history per Darrell:The purple Coach is a '34 Chevy body on a '32 Ford frame. When I bought the car in 1982, I was the fifth or sixth owner. The car was originally built in 1960. and was raced continuously until 1984 at Denver's Lakeside Speedway.
The original flathead was replaced by an inline 6 in the early '60's and then by a small block Chevy in 1973 as rules changes allowed. The Chevy coach body replaced Ford sheet metal in 1978. In 1983 the "modified" division split in to two groups. Full modifieds and Limited Modifieds. The Full mod class allowed a minimum 98" wheel base, aluminum heads, wings, coil over shock suspension and "any body". The Limited cars stayed more traditional.
The current "restoration" included a new '32 Ford frame from a street rod, a new roll cage, fuel cell and metal seat. The car retains transverse leaf suspension, 3/4 ton truck rear-end and drum breaks.
1968 was the last year I ever drove on dirt all subsequent tracks - Playland (Council Bluffs IA), Lakeside Speedway (Denver, CO) Colorado Springs International Speedway (Colorado Springs, CO) Big Country Speedway (Cheyenne, WY) and Beacon Hill Speedway (Pueblo, CO) have all been paved.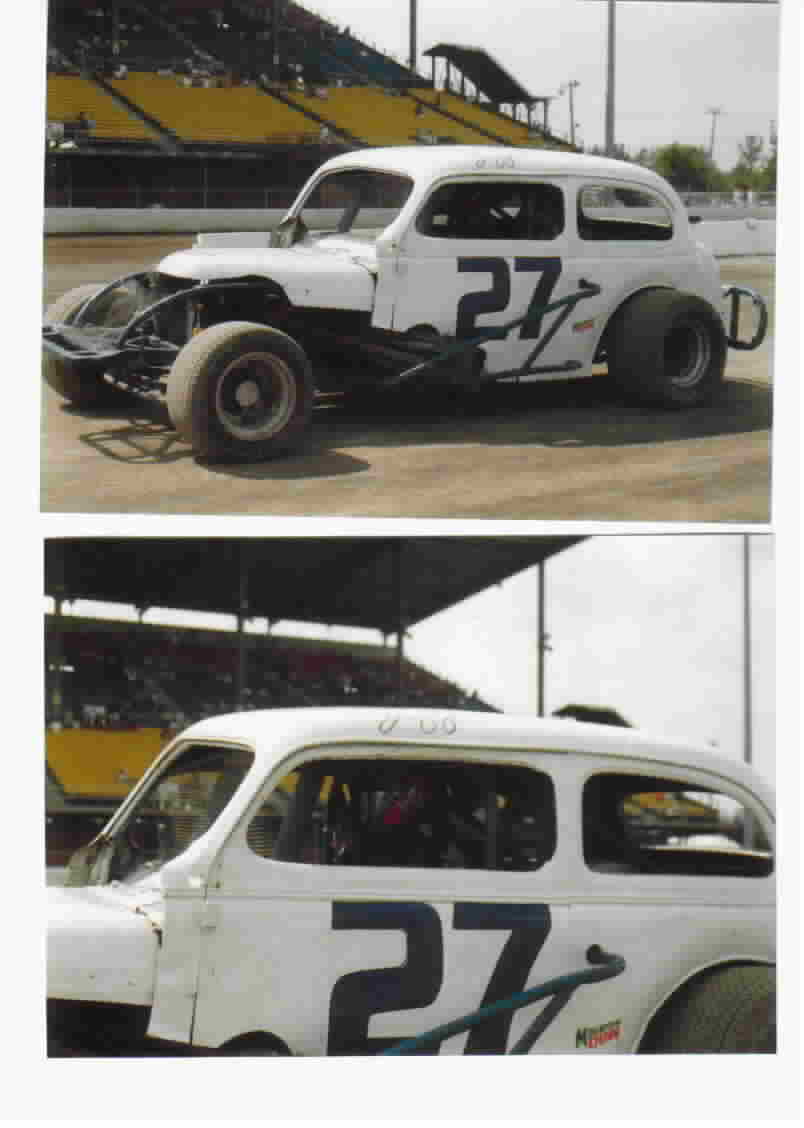 This photo is from Mid States Vintage member Jeff Gilbert. Here's an interesting story from Jeff (not word for word): Here's a photo of my 1938 chevy coach that I race In the Midstate Vintage stock car club. I 've only been in the club a short time, but these are the cars my dad took me to see race. My first involvment in dirt racing was with similar car. In 1970 we raced a 1937 chevy coupe wIth a 409 chevy engine. I did that for two years as an "apprentice". I left the oval for the drag strip. I did not get back into it until 1990 when I was approached about sponsorship. I was Invited out to a car show at the New York state fairgrounds . WhIle I was there, I saw a display of vintage cars. Unbeknown to me at this time, they were midstate club members. I told the "sponsoree" that those were the cars I really liked and told him a story about the racecar my dad and I never built. Several years later I went back to the car show where I ran into a fellow racer from the 4 cyl. Division I had raced in the past seasons. He told me he had an antique for sale. Later that season I bought this '38 coach. I think I brought a tear to my father's eye when he came up from his retirement home In Florida to see his son's race car, carrying his number on the door...27, the number of the race car we never built. Ironically, my grandfather owned a 1939 coach at the same time my dad was driving a 1937 coach! I hope you enjoy the photos and my story. This photo was taken at the New York state fairgrounds In July of'99
#25 Erick Erickson 41 Pontiac passing #16 Fred Stienbroner's Merc at Carrell Speedway (socal) circa 1950. Erick is still with us at 83 and sharp as ever.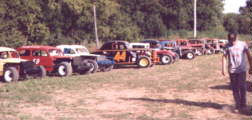 Click if you want, but this one isn't a thumbnail!! It is a lineup of Midwest Vintage cars at Webster City in 1997 or 1998.
This is a picture of Don "Speedy" Smith in his #66 car. Don was inducted into the Canadian Racing Hall of Fame. See more about Don on our Canadian Historical Racing Society Page.
Click here to see our new BACKYARD RACING TEAM Page.
click to see more about Don