Don't want to blow our own horn - heck yes we do!! This article ran in the Fremont Tribune today April 26, 2004. I think I should be jealous that Ginger got more press time than I did though!! Hope I can live with a celebrity in the house now that he's been a tv star and gotten a write-up in the newspaper. CHERYL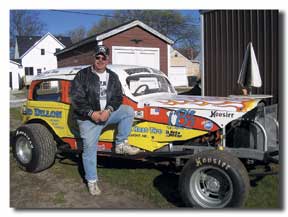 Good Ol' time racing association gets better as years speed by

By Carolyn Gibbs/Tribune Correspondent

John Ferguson is shown with his vintage 1935 Chevy Master Deluxe Sedan
. - Carolyn Gibbs/Fremont Tribune

The Good Ol' Time Racing Association has two main goals: to keep a piece of history alive and have fun. Founder John Ferguson of Fremont planned it that way. Ferguson, his brother, Richard, and his son, Jeff, were part of a vintage car racing group in another community, but they weren't happy there. "The group got so cut-throat, it wasn't fun any more," Ferguson said.
So, the Fergusons decided they wanted a safe, family oriented form of vintage racing. Their main objective was to have fun. With that in mind, the group has no point system. Win, lose or draw, all racers in GOTRA make the same money.

"The winners get bragging rights, of course," Ferguson said.

Other association objectives were laid out during a 1996 organizational meeting. The hobby had to be affordable, safe and one in which sportsmanship is promoted.

US 30 Speedway in Columbus gave the club its first racing date. The first season produced nine races, 13 cars and 20 members. Now in its ninth year, the group began its season on April 22 with more than 40 cars and 75 members at the home track in Columbus.

Preserving the history of vintage car racing — popular in the '50s and '60s — is depicted in the cars themselves. All cars must be models between the years of 1926 and 1948, have steel bodies and straight axles. The cars have no coil springs. Cars race on l/4- to 1/2-mile dirt tracks, and can attain up to 90 miles per hour or better depending on the size of the track. The bigger tracks can mean more speed. At the start of a race, the track is wet, but eventually it becomes dry slick. All cars also must display the Good Ol' Time Racing Association sticker.

Arlington had the finest dirt track around in the mid-1950s, Ferguson said. Races on Sunday nights brought people from the area, and when they had 100 race cars, event organizers shut the gates. "People got out of this racing for years and then it came back," Ferguson said. "I've always had a soft place for this racing."
Ferguson believes in recycling parts and cars. "A lot of our bodies we start off with are cars we recycled. If a car is nice enough to be a street rod, it would be a shame to destroy it to make a race car," Ferguson said. Resourcefulness is the key. "I built my first car, a Model A, from a frame I carried into the garage under my arm. As soon as someone hears you're building one of these cars, they offer all sorts of things they have," he said.

Ferguson's Model A was wrecked in a race and in 2000 he acquired a 1935 Chevy Master Deluxe Sedan. Engines are newer styles with a 330-cubic-inch limit. In the '60s when the last of these cars raced, they probably had a 327 engine, Ferguson said. Some in the group run flat-heads like they did in the '50s; a flathead is a motor Ford quit making in 1953. Tires also are recycled. Ferguson's were on someone else's car at one time.
"A lot of guys are content to sell them cheap or give them to us," Ferguson said. Many drivers run three nights on a set of tires and then pitch them.

GOTRA is a diversified group of cars and drivers. Studebakers, Chevys, Fords, Plymouths, and even a 1930 Nash Rambler compete with drivers ranging in age from 16 to 60. "I received the highest compliment you can get at Butler County Speedway. One of the teens was asked how he got along with these old guys. He replied 'All they do is encourage me,'" Ferguson said.

The season sees these vintage cars and their drivers traveling to race tracks in Nebraska, Iowa, Kansas, Missouri, Minnesota and Arkansas. Since the cars aren't street licensed they are hauled by trailer to events. Ferguson said group members enjoy seeing people notice their cars when they travel. "The older people especially light up. For them, it's a bit of nostalgia. We are travelers and that's half the fun. When we stop for gas, we plan on a half hour because everyone comes to look at the car. If I can get a little kid to sit in the car and see their face light up in a smile, it's great," Ferguson said.

An added eye catcher for Ferguson is Ginger. He bought Ginger at a garage sale. She's a mannequin. "I couldn't wait to get her home. I wanted one of those mannequins for a hundred years. I saw a guy pull into a race track with one strapped in, hair blowing in the wind and thought it was the neatest thing ever," Ferguson said. The mannequin has red hair and thus gained her name from the character, Ginger, on the television comedy, "Gilligan's Island." Ferguson said people laugh. They see the car first and then see Ginger and do a double take. It's all a part of rule No. 1, having fun.

Safety for the drivers is also a priority. Ferguson said last year not one car was rolled, but accidents do happen.
It's open wheel racing since the cars don't have fenders so if a driver gets too close, he'll go right over the other driver's tires.
"We try to put on the best show possible with the least amount of contact," Ferguson said.

Drivers can be safe and still employ some things to give them that winning edge. A driver can guess the right gearing, tire pressure, and read the track. Mostly, drivers just enjoy their sport. "I don't have to win to have fun. Everybody wants to win, but if you have to win, this probably is not the group for you," Ferguson said. Whether on a race track, in a parade or a nostalgia event, these vintage cars are back in the limelight. Each car has a number of sponsors whose names are painted on the cars. Sponsors may contribute money, but also services and other things a driver might need. That could include tires or business cards or advertising for the group's events. Ferguson believes these vintage cars are a piece of Americana that he loves being a part of.

The Good Ol' Time Racing Association motto says it all: "Turning back the clock one lap at a time."